Réminiscence Afrique Guadeloupe is an exceptional, symbolic moment of communion and sharing between three artists – Alain Jean-Marie, from Guadeloupe, Gino Sitson, from Cameroon, and René Geoffroy, from Guadeloupe – who share a common origin: Africa.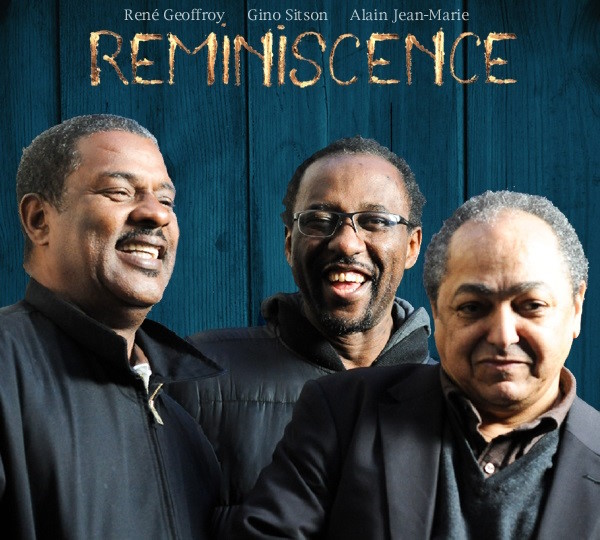 Credits
Alain Jean-Marie (piano), Gino Sitson (vocals), René Geoffroy (vocals, percussion)
Tracks
1- On Ti Berceuse – 5:24 / 2- Evolution – 5:24 / 3- Paper – 5:02 / 4- Dezespwa – 7:18 / 5- Mesi Gwada – 5:23 / 6- Haiti – 4:02 / 7- Baltazia – 3:02 / 8- Morena's Reverie – 5:45 / 9- Todeu – 4:53 / 10- Janmwenlka – 3:43 / 11- Haitian Child – 5:22 / 12- RAG – 5:26 / 13- The River – 2:49
"An exceptional and challenging encounter between Alain Jean-Marie, Gino Sitson and René Geoffroy."

Thierry Gairouard
These three exceptional artists, with their different cultural and social backgrounds, wanted to retrace the journey of their African ancestors deported to the Unknown Lands, and imagine their frustrations, fears, deprivations and humiliations in a contemporary context. They drew on the rich Afro-mixed culture they left us, including blues, jazz, gwoka, quadrille, maloya, bossa nova, bel air, music from Cuba and Haiti, to name but a few. All are the fruit of a melting pot of pain, sorrow, blood and pleasure.
For this Réminiscence, Alain Jean-Marie's piano is relevant, inventive and powerful, mingled with René Geoffroy's voice, powerful and cavernous, and Gino Sitson's airy, subtle, light and deep at the same time; the right trio to invite us on this journey to these Lands. Our Reminiscence is not a posture of withdrawal, but an approach based on the desire to understand who we are, to better understand and accept the Other. Reminiscences is a celebration of the inner forces of creation and adaptation of displaced peoples, who in moments of unspeakable torment know how to transcend them and resist.
Management, booking, presse